You're a Kinecta member, you deserve all the advantages.
HomeAdvantage®
Has the time come for you to buy or sell a home? Fabulous! We have the ultimate experience in store for you – HomeAdvantage. 
It's our pleasure to provide you with an easy way to navigate home buying or selling. Don't think it's possible? In fact, it is! We won't let you lose sleep over either process. By enrolling in HomeAdvantage we'll connect you with trusted real estate agents, resources, and all the information you'll need. We'll even help you earn HomeAdvantage Cash Rewards. How fantastic is that?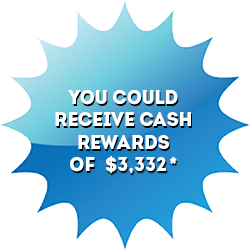 Did we mention that this service is absolutely free and can help you:

Search for a Home. Explore up-to-date online listings to discover your dream home.

Find a Real Estate Agent. Connect with a network of hand-picked top-notch local agents.

Earn Cash Rewards. Collaborate with one of the agents in the network to buy or sell a home and earn Cash Rewards equal to 20% of the agent's commission.

Get Listing Alerts. Receive email updates when new listings become available.


Do Your Research. Easily review different neighborhoods, schools, crime statistics and comparable properties.

Get Your Questions Answered. Our dedicated Member Service Team is available 7 days a week whenever you need help.

Acquire the Right Mortgage. Learn how Kinecta can help you finance your new home.
Estimate Your Cash Rewards
HOME SALE PRICE
MEMBER CASH REWARDS
$100,000
$600
$300,000
$1,800
$600,000
$3,600
$900,000
$5,400
Get the ball rolling with HomeAdvantage today. Watch now!
---
The HomeAdvantage program is made available to you through a relationship between Kinecta and CU Realty Services. Program Cash Rewards are awarded by CU Realty Services to buyers and sellers who select and use a real estate agent in the HomeAdvantage network. Home buyers or sellers are not eligible for the Cash Rewards if they use an agent outside this network. Using Kinecta for a mortgage is not a requirement to earn Cash Rewards. Cash Rewards amounts are dependent on the commissions paid to the agent. Kinecta may have specific rules on how your Cash Rewards will be paid out. Cash Rewards incentives are available in most states; however, are void where prohibited by law or by the lender. Please consult with Kinecta to get details that may affect you.
* Cash Reward examples shown are based on a 3% agent commission rate on a home purchase price of $555,410, the median home price in California as of September 2017 (Source: California Association of Realtors). Since agent commissions vary, your actual Cash Rewards may vary accordingly.Since agent commissions vary, your actual Cash Rewards may vary accordingly.